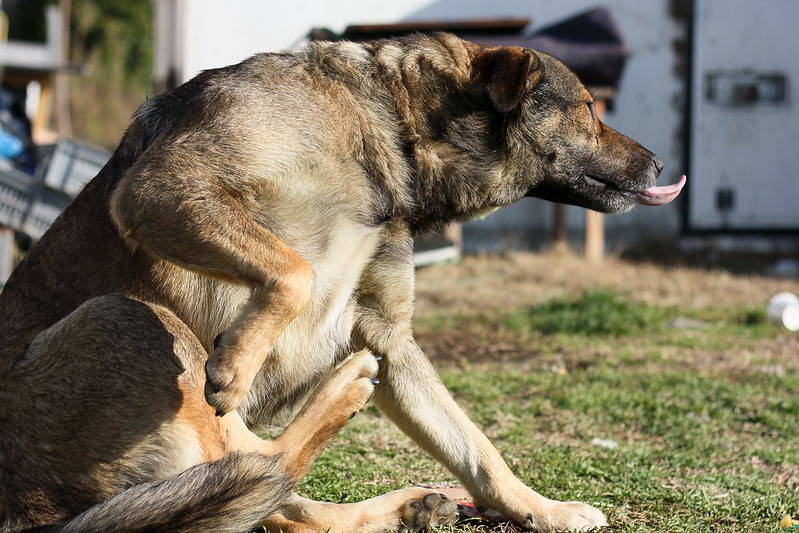 Spring is in the air, which means it is allergy season, and not just for humans, but for our pets too. There are many prescription medications available in the market to help provide allergy relief. But did you know there are vitamins, herbs, and natural products to help combat allergy symptoms as well?
Our beloved Briggs, suffers from terrible seasonal allergies, and has tried many prescription medications over the years. This year after further research, I tried a more natural path, and are amazed by the results.
I'm a believer in a mixed healthcare approach for both myself, and my pets. A good balanced diet, exercise, medications when needed, as well as natural preventives, and solutions when possible. It sounds easy enough, but it can be difficult when determining what will be effective for your pet. Especially since our pets can't talk to us about how they feel.
Briggs is now 7, and for as long as I can remember he has suffered from allergies. He is itchy, has watery eyes, a stuffy nose, heavy breathing, and some occasional reverse sneezing. With guidance from my vet, Briggs has tried many medications with the latest being Apoquel by Zoetis, a Pfizer Co. I was hopeful the Apoquel was helping, as he was not as itchy, but he still did not seem himself and was reluctant to take the medication, which is uncharacteristic of him. Before his upcoming vet appointment I decided to research Apoquel to better educate myself when discussing it with my vet. What I learned was that Apoquel does not treat any allergy symptoms, rather masks them "by stopping the itch". I also learned of the high risks that came along with a medication that to me didn't outweigh the benefit.
The more I searched an alternative, the more I found articles outlining how vitamins and herbs can help combat allergy symptoms, with Quercetin as a recommended option. Quercertin is nicknamed "Nature's Benadryl", and with a name like that, I was optimistic it could be what I was looking for.
Briggs has been on Quercetin now for about two months, off the Apoquel, and I am loving the results. Similar to Apoquel it has stopped his itch, but I have also noticed his breathing is better, and his demeanor is back to his silly, loving self. As a bonus, Quercetin has anti-cancer effects, and can also support bone health, weight reduction, and heart health.
Knowledge is power, and I believe we should share what we find helpful with our community, as it may benefit others. I hope you found this educational. If you have any questions, or comments, please feel free to reach out via email or social media.
XO -
Tara & Briggs
*IMPORTANT PLEASE NOTE* - I am not a veterinarian, nor am I providing medical advice. I am sharing our experience, and encouraging others if interested to do their own research and consult with their vet before trying something new. Especially if your dog is on medications, is pregnant, and/or has health issues.
A few good resources:
https://www.dogsnaturallymagazine.com/wouldnt-give-dog-new-allergy-drug/.
https://www.dogsnaturallymagazine.com/natures-benadryl-quercetin/.